4th Seminar on American Studies
"Interpretations of History, Ideology and Politics in Cultural Texts" and "Citizen Humanities: Using Quantitative Research methods to engage citizen participation in research"
If you are intereste in the PhD program please visit: PhD in American Studies. This one-day seminar is part of the PhD Program in North American Studies of the Franklin-UAH according to the following objectives:
To strengthen the scientific community around the American Studies.
To deep the different lines of research that are being developed in this field of study.
To analyze new trends in American Studies and apply them to doctoral thesis in progress.
This seminar is address to:
PhD students and their thesis directors in the American Studies PhD program.
Master students in the American Studies program.
Any researcher interested in current trends in the field of American Studies.
Program
9:30 – 10:00. Greeting new doctoral students. General information about the American studies program.
10:00 – 12:00. Workshop:

Dra. Blanca Arteaga. (UAH) "El diseño y desarrollo de encuestas. Investigación cuantitativa aplicado a las humanidades".

12:00 – 12:30. Coffee Break
12:30 – 14:00. Session One: Doctoral student presentations.

Daniel Ureña: "The use of Spanish language in US presidential campaigns".
Marcos Todeschini : "Narrating the 1920: the Lost Generation in Hemingway's literary and journalistic texts".
Ignacio Gallego: "Ideology, Politics and Environment in John Sayles' Silver City".
Laura Alvarez: "Audiences and Ideology: Characters and Media Consumption in Don DeLillo".
Miguel Benito: "Historical Roots of US National Security Ethos".

14:00 – 15:30. Working lunch and professor-student discussions. (Seminario 1)
15:30 – 16:30. Session Two: First-year round table: Daniel Bustillo, Carmen Diaz, Beatriz Lindo, Joaquin Saravia, Sergio Rodriguez, Carlos Herrero.
16:30 – 17:30. Plenary lecture: Dr. Eulalia Piñero  (UAM) "John Dos Passos's Transcultural and Transnational Vision about History and Literature".
17:30 – 18:00. Break
18:00 – 19:30. Session Three:  Doctoral students presentations.

Elena Serrano: "Representations of Native American Women in Contemporary US Cinema".
Jing Hu: "Finding ´Common Ground´ across Differences: Environmental Injustice in Almanac of the Dead and Hollow Mountain".
Sabah S. Jabbar: "Philip Roth and Historical Identity".
Ainur Ospanova: "The Importance of the U.S. Vector in Foreign Policy of Kazakhstan".
Orators
​​​​​​​​​​​​​​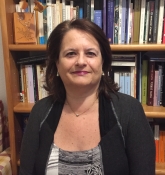 ​​​​​​​
Eulalia Piñero Gil is Associate Professor in American Literature and Gender Studies at the Universidad Autónoma of Madrid. Currently, she is the head of the Department of English Department at the UAM. She was awarded a scholarship to study Comparative Literature at Purdue University where she graduated with a Master's Degree in 1987. Likewise, she was awarded a doctoral grant to research the archive of the American poet Marianne Moore at the "Rosenbach Library and Foundation" in Philadelphia. Piñero Gil was also granted two scholarships by the Canadian Government to research Canadian women's poetry in 1997 and in 1998. She has published extensively in women's literature, gender studies, music and literature, American and Canadian poetry, Asian American and African American literatures, American theatre, and 19th Century American literature. Notably, she has co-edited several works including Visions of Canada Approaching the Millennium (1999), Women and Art: Visions of Change and Social Development (2010), Breaking a Sea of Silence: Interdisciplinary Reflections on Gender Violence (2013), and is the author of the critical edition Extraordinary Narrations by E. A. Poe (1999), and the translation and critical edition of Herman Melville's Bartleby, the Scrivener (Espasa Calpe, 2006).
​​​​​​​​​​​​​​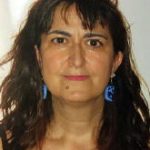 ​​​​​​​
@blanca_arteaga (Web) Degree in Mathematics by the Universidad Autónoma de Madrid and PhD in Education by the Universidad Complutense. She has taught at different educational levels; fifteen years as a teacher of PGS, PCPI, Secondary Education and Baccalaureate. She has been an Associate Professor at the Universidad Carlos III de Madrid and the Saint Louis University in Madrid. At the Universidad Internacional de La Rioja, she has taught in different degrees and masters and has also led the research group, Educación Personalizada en la Era Digital. Currently, she is Assistant Professor at the Department of Mathematics and Physics (Facultad de Ciencias) at Universidad de Alcalá (Madrid). Her research has focused on the action-research in the didactics of mathematics. She has conducted and participated in different research and educational innovation projects in several universities. Member of the research group Adaptive Pedagogy of the Universidad Complutense.