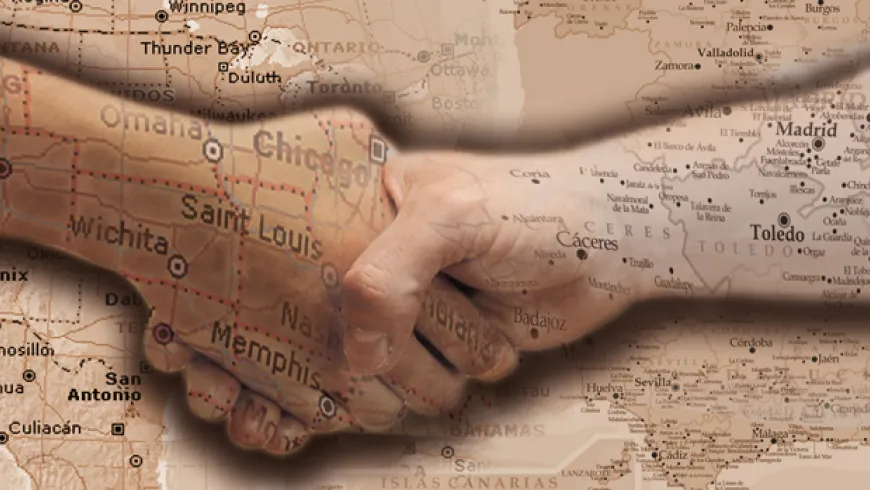 The Franklin Institute-UAH offers six visiting researcher positions per year to conduct their research related to American Studies within the research lines of the Franklin Institute-UAH.
The Franklin Institute - UAH will provide adequate space to conduct research in its building and will provide access to the UAH library.

Visiting researchers will receive no salary. All expenses will be borne by the researcher.

The enjoyment of the stay will be one month, which may be extendable. The date will be assigned according to the calendar and space availability.

For calendar reasons, research stays will not be accepted during the months of July and August.

The visiting researcher will be asked to collaborate in the blog Diálogo Atlántico of the Franklin Institute-UAH according to his/her research.

The submission of this application does not guarantee the acceptance of the research stay.

Those interested can apply by sending the form on this page.
Zarha Nazemi, Universidad de Córdoba (2022)
Georges Moukouti Onguédou, Ecole Normale Supérieure - Université de Maroua (Cameroun) (2022)
Isabel Díaz Sánchez, Universidad de Alicante (2022)
Ángel Pascual Martín, Universitat de Barcelona (2022)
Juliette Richaud, Université de Pau (2022)
Enrique del Rey Cabero, Universidad de Alcalá (2022)
María Amelia Arancet Ruda, Pontificia Universidad Católica Argentina (2020)
Francesco Leonardi, Universitá degli Studi Roma Tre (2020)
Elizabeth Montes Garcés, University of Calgary (2019)
Carlos de Donesteve, Universidad Nacional de Educación a Distancia (2019)
Andrzej Podraza, Institute of Political Science and International Affairs Faculty of Social Sciences John Paul II Catholic University of Lublin (2019)
Leah Fabiano Smith, University of Arizona (2019)
Natacha Ramírez Tamayo, Universidad de Antioquia (2019)
Victor Huertas Martín, Universidad Nacional de Educación a Distancia (2019)
Alberto Rodríguez Elcorobarrutia, Universidad de Valladolid (2019)
Mar García Arribas, Universidad Autónoma de Madrid (2018 y 2019)
Hana Jalloul, Universidad Carlos III de Madrid (2018)
Elizabeth Boone, University of Alberta (Canadá) (2018)
Marco Katz, University of Alberta (Canadá) (2018)
Alfredo Crespo Alcázar, Universidad Antonio de Nebrija (2018)
Fabián Orán Llanera, Universidad de La Laguna (2018)
Antonio Daniel Juan Rubio, Universidad Internacional de La Rioja (2018)
Biljana Oklopcic, University of Osijek (Croacia) (2018 y 2019)
Fernando Prado Verduga, Universidad de Alcalá (2018)
Irma Losada, Universidad Complutense de Madrid (2018)
Virginia Fusco, Universidad Carlos III de Madrid (2017)
Daniel Pascual Sansó-Rubert, Universidad de Santiago de Compostela (2017)
Pilar Salvá Soria, Universidad Complutense de Madrid (2017)
Sławomir Studniarz, University of Warmia and Mazury, Olsztyn (Polonia) (2017)
Ana Belén Perianes, Ministerio de Defensa (2016)
Héctor Domínguez Benito, Universidad Autónoma de Madrid (2016)
Pilar Salvá Soria, Universidad Complutense de Madrid (2016)
Ígor Rodríguez Iglesias, Universidad de Huelva (2016)
John Nieto-Philips, Indiana University (2016)
Georges Mokouti, Universidad de Maroua (2016)
Carlos González, Universidad Complutense de Madrid (2016)
María Luisa Zamudio, Illinois State University (2015)
Martha García, University of Central Florida (2015)
Víctor Páramo, Universidad de Valencia (2015)