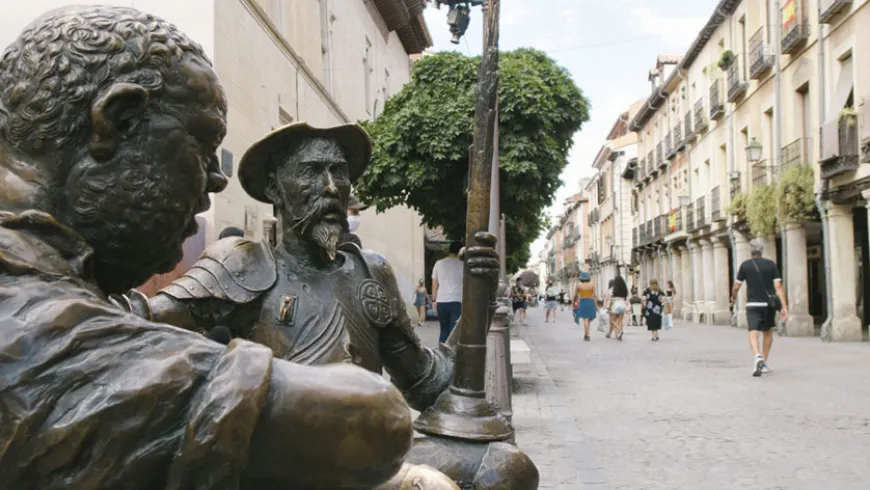 Alcalá de Henares is a city located in the east of the Community of Madrid, about 40 minutes by train from the center of Madrid. A buzzing international city of around 215,000 people, Alcalá is ideally located about 1o miles from Barajas Adolfo Suárez International Airport. Public transportation connects Alcalá with downtown Madrid and the airport via bus, train, or taxi.
Alcalá de Henares and the Universidad de Alcalá were both declared UNESCO World Heritage Sites in 1998. This city is known for being the birthplace of Miguel de Cervantes, the author of Don Quixote de la Mancha and for its 15th century university. 
The city of Alcalá de Henares combines the best of a medieval and modern city. Alcalá has a full range of modern amenities for international students: hotels, restaurants with local and international cuisine, gyms, sports areas, banks, travel agencies, shopping centers, theaters, and cinemas, which make one´s stay very enjoyable. There are also several medical clinics and a hospital.
Corral de Comedias. Considered the oldest theater in Europe (1601). 
Cervantes Birthplace-museum. Go back to the 16th-century atmosphere and visit the house where Cervantes was born in 1547. 
Casa de Hippolytus. This Roman house located on the outskirts of Alcalá de Henares.  It was built in the 2nd century B.C. as "Colegio de los Jóvenes" (School for the Youth). Today, its remains are from what was left of its renovation on the 6th-century.  
Every year, the King of Spain presents the Cervantes Prize, which is one of the most prestigious awards in Spanish Literature. It takes place on April 23rd, the anniversary of Cervantes' death, in the university's main hall.
World-renowned Cervantes Medieval Festival. In October, the largest medieval festival in Europe is celebrated in Alcalá. This event is known for its Golden Age atmosphere (streets adorned with medieval decorations and vendors dressed in medieval garbs). One can enjoy the gastronomy of the region, as well as relish in the ceramic, jewelry, clothes, etc. that represent the typical markets of the 16th-17th centuries.
Alcalá is considered an attractive and safe college town where students can get around easily and enjoy the beauty of its historic buildings and plazas. 
It is centrally located and easily accessible by public transportation. Madrid is just 40 minutes away by commuter train or bus. Trains to Madrid depart every 7 minutes, connecting to all zones of the city.  Its public transport system offers comfort, safety, and a friendly service.
Barajas International Airport is 15 km (10 miles) from Alcalá and connected to downtown Alcalá by bus, train, and taxi.
Students under 26 years old can get a monthly transportation cards for approximately 20€. This card allows you to use any public transportation (bus, subway, train) in the whole of the Community of Madrid. Using it as many times as you like. There is a transportation office in Alcalá where you can get it by presenting your original passport.
There are many opportunities to practice sports and participate in activities in Alcalá. There are several sports facilities and swimming pools: El Ensanche, Espartales, El Val, O´Donnell, El Juncal.  

Natural Park de los Cerros. Several walking routes extend throughout this natural park: Tarays Route, Puerta Verde and Camino del Retén Route, Alcalá La Vieja Route and Ecce Homo Route. They are characterized by its geology, archeology, flora, and fauna.