Screening & Talk about Nasario Remembers Rio Puerco
Nasario Remembers Río Puerco es una película documental que sigue al célebre folclorista y escritor de Nuevo México Nasario García, mientras hace lo que más le gusta: pasear por el paisaje de los antiguos pueblos del valle del Río Puerco, recordando los tiempos de antaño y reviviendo su juventud cuando el lugar era próspero y los ancianos contaban historias al lado de un río donde corría el agua en abundancia.
La película está dirigida por Shebana Coelho, una premiada cineasta. Sus documentales han sido transmitidos por American Public Television, BBC, Discovery Network, entre otros. Previamente adaptó el primer libro de historias orales, Recuerdos de los viejitos, del Nasario García, a una obra teatral que se presentó en Santa Fe y Albuquerque, Nuevo México, en 2014. Esta película lanza un nuevo proyecto de Faraway is Close. Su objetivo es conectar culturas, pueblos y personas a través de encuentros abiertos y creativos usando cuentos, recuerdos, películas, cante y baile.
La actividad propuesta consiste en la proyección de la película y posterior coloquio, conducido por Berenice Granados, coordinadora del Laboratorio Nacional de Materiales Orales (Morelia, UNAM), contará con la presencia de la directora del film Shebana Coelho. Se incidirá en el papel que desempeña en Nuevo México la lengua y la cultura españolas.
Requirements: Arts & Humanities doctoral students.
Registration: On this webpage before December, 3.  
Program
4:00 to 5:00 p.m. Screening Nasario Remembers Río Puerco directed by Shebana Coelho.
5:00 to 6:00 p.m. Talk: Shebana Coelho, film director, with José Manuel Pedrosa (UAH).
Orators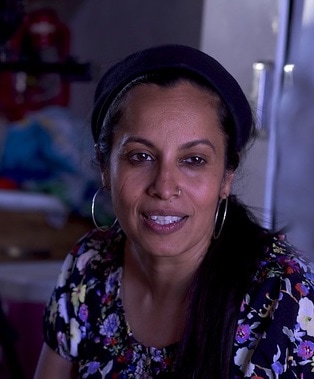 Shebana Coelho es originaria de la India, residiendo actualmente en Nuevo México. Ha trabajado los géneros de documental, ficción, teatro, poesía y,  recientemente, actuación.
Así mismo ha escrito y viajado por  la India, México, Mongolia y Palestina, entre otros.
Entre sus premios se destacan una beca de ficción de la New York Foundation for the Arts (NYFA), una beca de la Fundación Jerome para artistas emergentes y una beca Fulbright a Mongolia para experimentar y registrar la vida en comunidades nómadas.